The original benefits of Polymer Processing Aids (PPAs) in PE were described as being able to increase the speed of extrusion without increasing the processing temperatures, and the ability to extrude smooth surfaces. It was found that the use of PPAs in PE could in many cases eliminate melt fracture that would otherwise occur in extrusion, allowing a smoother surface. These two benefits could bring cost savings and profit to a manufacturer at the same time. The reduction of energy needed to extrude the material while providing an acceptable surface finish saved manufacturing energy costs and improved quality.
These advantages could be manipulated by the specific choice of PPA, the level of PPA addition, the processing conditions used by the processor, and the method of addition of the PPA. Figure 33.1 are examples of results from a production trial using 450 ppm of Kynar Flex 2821 PPA in a hexane based LLDPE. The film producer went from stating that LLDPE could not be effectively run on the production equipment, to running the film at the full capacity of the extruder with high quality film (no melt fracture).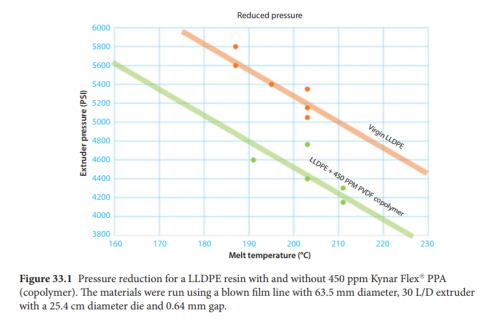 The PPA suppliers discovered that the particle size and the dispersion of the PPA into the PE could be very important. It is generally considered that a well-dispersed PPA into PE-based masterbatch made for letdown at the final extruder is important but not the only parameter. Actual particle size of the dispersion often seems to be critical and how the PPA bonds to the entire die surface as well as the die lip can determine the speed at which melt fracture is reduced as well as overall pressure drop in the extruder. Studies have been conducted that claim that maintaining larger particle size of the PPA in the dispersed phase can lead to better process aid performance. Fine and coarse dispersions of a PPA in PE masterbatches are shown in Figure 33.2.